---
Quick Links


---
---
Disclaimer:
While the advice and information contained within this website is believed to be true and accurate, the Cardinal Council does not accept any legal responsibility for any errors or omissions that may have been made. The Cardinal Council makes no warranty, expressed or implied with respect to the material contained here.
---
Glasgow Garden Club
President - Glenda Eaton
Vice-President - Jean Kronemyer
Secretary - Connie Pickett
Treasurer - Martha Nelson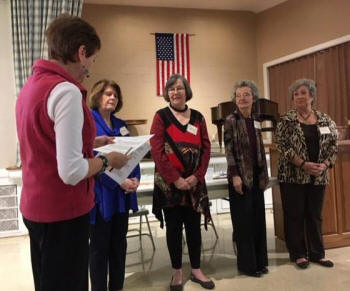 Glasgow Garden Club meets the .
Projects
Protect the environment
Garden Therapy at nursing homes
Maintain a Monarch Butterfly Way Station in Smiths Grove
Civic Beautification: Landscape around Welcome signs at Plum Springs, Oakland and Smiths Grove communities and the Blue Star Marker at the Smiths Grove Cemetery
Mammoth Cave flower beds
Blue Star Marker
National Garden Week
Children's Garden at Smiths Grove Branch Library
Past Presidents

| | |
| --- | --- |
| 1992-1993: Martha McGuirk | 2006-2007: Martha McGuirk |
| 1995-1997: Jean Tuttle | 2007-2009: Peggy Jordan |
| 1997-1999: Edith Nelson | 2009-2011: Ruth Gregory |
| 1999-2001: Edith Nelson | 2011-2013: Peggy Jordan |
| 2001-2002: Kay Lightfoot | 2013-2015: Martha McGuirk |
| 2001-2003: Nancy Stiles | 2015-2017: Myrna Neff |
| 2003-2005: Edith Nelson | 2018-2019: Barbara Basham |
| 2005-2006: Nancy Stiles | |